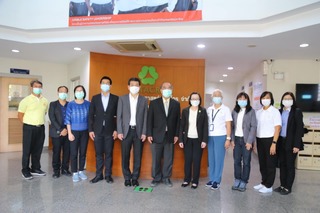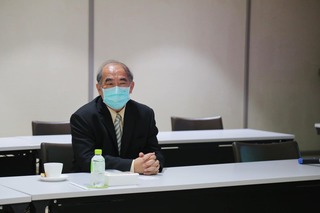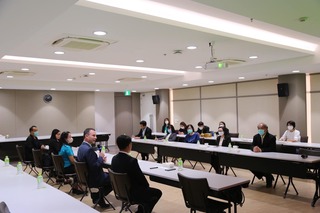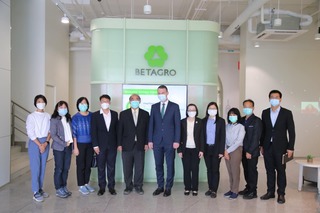 On 17 October 2022, Dr. Patom Sawanpanyalert, M.D., Director general of Department of Science Service (DSS), Ministry of Higher Education, Science, Research and Innovation (MHESI) and the DSS executives visited
the Food Innovation Center, the industrial estate Navanakorn, Pathumtani. Dr. Oliver Gotshall, Director of officer in the group of food business, and Mr. Pontakorn wongchareon, Vice executives of the Food Innovation Center, accompanied with Mr.Somsak Boonlab, Director of officer in the group of the industrial agriculture business and Mr. Kanok Jaturanon, Assistant executive lab service welcomed and took a tour at the Lab BSC Science Park.
Betagro is the integrated food business and one of the food manufacturer outstanding in Thailand. The objectives of this visiting was to find out the cooperation in advance, connect the food technology improvement, analyze the food innovation research and exchange the science and technology knowledge in developing the food business and supporting the food entrepreneurs.
written by
Dr. Jutathip Lapviboonsuk &
Natthakan Thongsuk
-----------------------------------------------------------------------------------------------------------------------------------------
กลุ่มประชาสัมพันธ์/ทีมงานโฆษก : กรมวิทยาศาสตร์บริการ (วศ.) กระทรวงการอุดมศึกษา วิทยาศาสตร์ วิจัยและนวัตกรรม (อว.)
เลขที่ 75/7 ถนนพระรามที่ 6 ราชเทวีกรุงเทพฯ 10400 โทร 0 2201 7095-8 โทรสาร 0 2201 7470 e-mail : This email address is being protected from spambots. You need JavaScript enabled to view it.
www.facebook.com/DSSTHAISCIENCE , www.facebook.com/ScienceDoctorD