Chemistry Program Hot News
          Two scientists from Chemistry Program, Ms. Duangkamol Chaosrimud and Ms. Wongkanok Yoosong, attended the 45th IUPAC World Chemistry Congress (IUPAC-2015) organized by International Union of  Pure and Applied Chemistry (IUPAC) committee and hosted by Korean Chemistry Society (KCS). The IUPAC-2015 conference held in Busan, Korea from August 9 to 14, 2015 and welcomed 3,787 participants from 79 countries. Two presentations shown by 2 scientists from Chemistry Program include:
          1. "Investigation of Migrated Heavy Metals from Enamel Ware" by Duangkamol Chaosrimod, Jitwilai Waluvaruk, and Vannapa Tanyuenyong.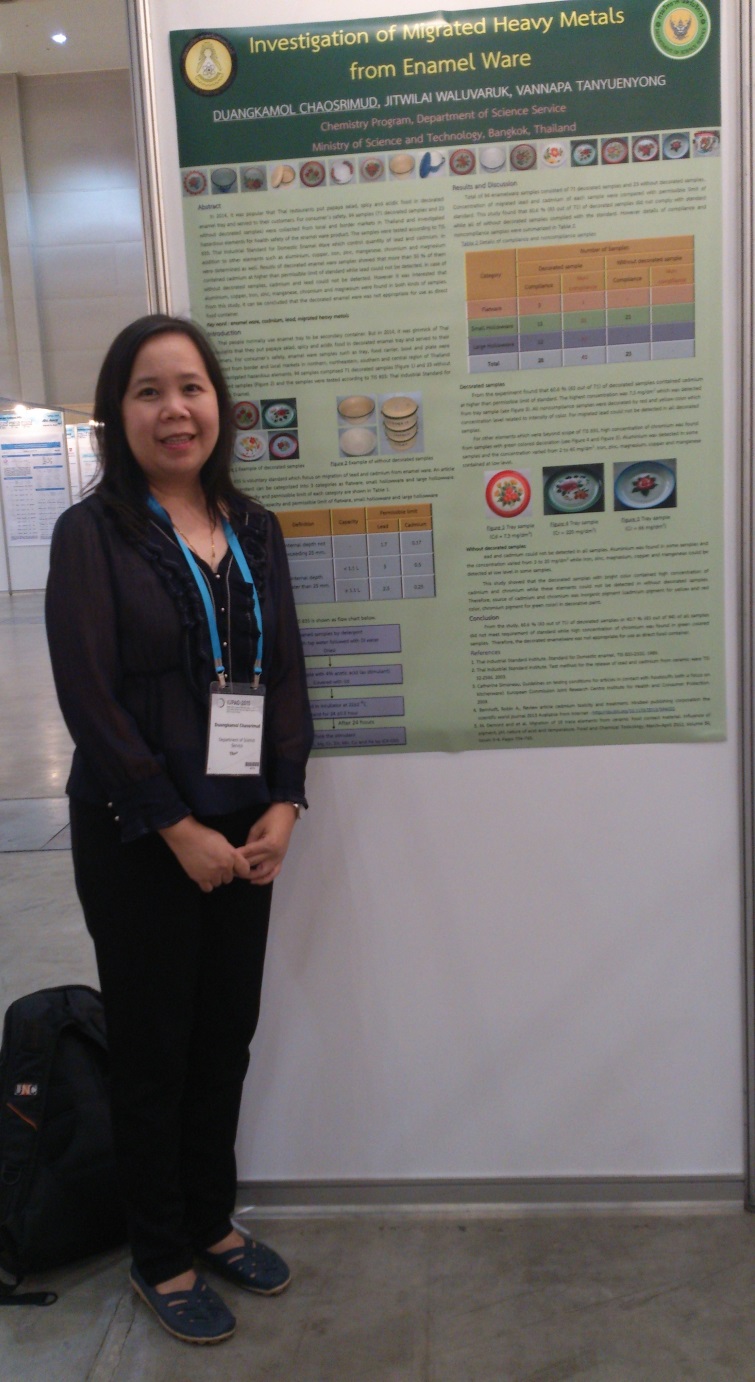 ABSTRACT
            ln 2014, it was popular that Thai restaurants put papaya salad, spicy and acidic food, in decorated enamel trays and served to their customers. For consumer's safety, 94 samples (71 decorated samples and 23 non-decorated samples) were collected from local and border markets in Thailand and investigated hazardous elements for health safety of the enamel ware product. The samples were tested according to TIS 835: Thai Industrial Standard for Domestic Enamel Ware which controls quantity of lead and cadmium. In addition, other elements such as aluminium, copper, iron, zinc, manganese, chromium, and magnesium were determined as well. Results of decorated enamel ware samples showed that more than 50 % of them containing cadmium at higher amount than permissible limit of standard while lead could not be detected. In case of non-decorated samples, cadmium and lead could not be detected. However, it was interesting that aluminium, copper, iron, zinc, manganese, chromium, and magnesium were found in both kinds of samples. From this study, it can be concluded that the decorated enamel ware was not appropriate for use as a direct food container.
          2. "Analysis of  Phenol in Plastic products by HPLC" by Wongkanok Yoosong.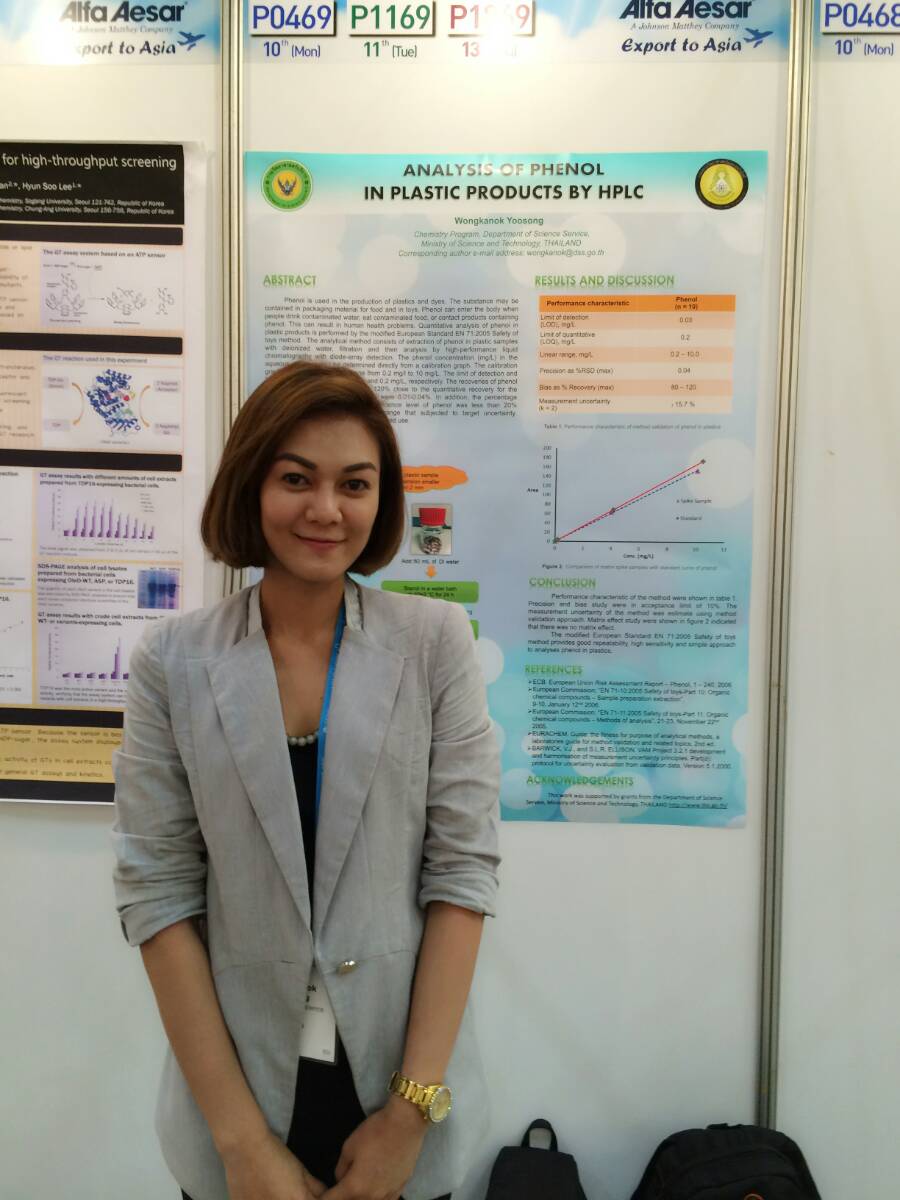 ABSTRACT
             Phenol is used in the production of plastics and dyes. The substance may be contained in packaging material for food and in toys. Phenol can enter the body when people drink contaminated water, eat contaminated food, or contact products containing phenol. This can result in human health problems. Quantitative analysis of phenol in plastic products is performed by the modified European Standard EN 71:2005 Safety of toys method. The analytical method consists of extraction of phenol in plastic samples with deionized water, filtration and then analysis by high-performance liquid chromatography with diode-array detection. The phenol concentration (mg/L) in the aqueous sample could be determined directly from a calibration graph. The calibration graph showed a good linear range from 0.2 mg/l to 10 mg/L. The limit of detection and limit of quantitation were 0.03 mg/L and 0.2 mg/L, respectively. The recoveries of phenol in plastics were between 80% and 120% close to the quantitative recovery for the method used. Intermediate precisions were 0.01-0.04%. This method provides good repeatability, high sensitivity and simple approach to analyze phenol in plastic products. In addition, the percentage measurement uncertainty at 95% confidence level of phenol was less than 20% throughout concentrations of working range that subjected to target uncertainty. Therefore, this method was fit for the intended use.